One of Manhattan's most legendary tales is that of Peter Minuit's purchase of the island from the native-American Lenape tribe in 1626. The transaction was said to have taken place underneath a tulip tree in today's Inwood Hill Park, home of Manhattan's last natural forest and salt marsh.
For almost three centuries "the great tulip tree" stood on a knoll on the east side of Inwood Hill and west shore of Spuyten Duyvil Creek. The park itself was purchased from private owners in 1916, but concern over the tree's declining health led the Parks Department to intervene before then. In 1912, Parks Commissioner Charles Stover secured private donations to have the Forestry Bureau perform surgery on the then-estimated 225 year old tree. Dead wood was cut out of the tree, cavities were filled "with cement according to modern methods of tree surgery," and an iron fence was erected under the perimeter. These activities, as reported in the 18th Annual Report of the American Scenic and Historic Preservation Society (1913), were performed "in the hope that this ancient tree may stand for centuries to come."
Annual Report of the Department of Parks, Borough of Manhattan, 1930
By 1930, Parks needed to once again address the tree's health, citing that previous work was not properly done. The cement filling had cracked, allowing for decay of the sap-wood. Using new scientific methods, the old cement was replaced with a new filling along with steel rods that reinforced and cabled the tree's large limbs.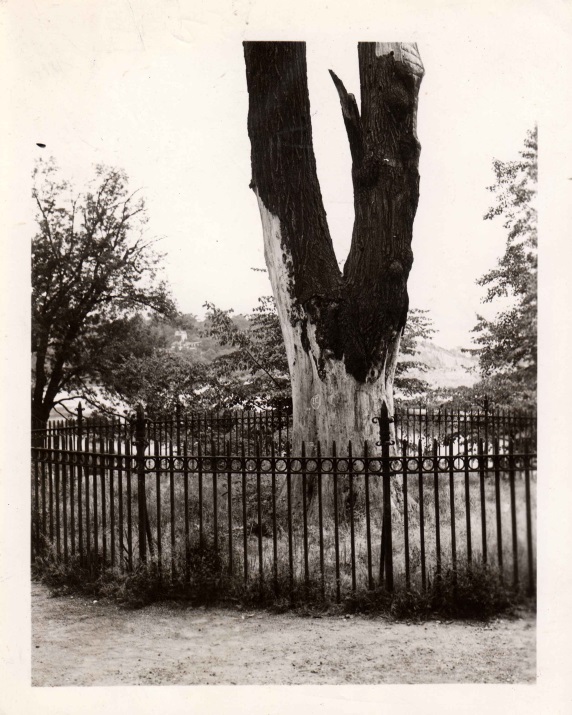 Unfortunately, this would be the tree's last surgery; it fell victim to a storm in 1933. To commemorate it, a boulder – named Shorakkopoch Rock for a large Lenape settlement that originally occupied the area – and tablet were installed by the Peter Minuit Post of the American Legion in 1954. The tablet reads:
Shorakkopoch

According to legend, on this site of the
principal Manhattan Indian Village, Peter Minuit
in 1626, purchased Manhattan Island for trinkets
and beads then worth about 60 guilders.
This boulder also marks the spot where
a tulip tree (Liriodendron tulipifera) grew to a height
of 165 feet and a girth of 20 feet. It was, until
its death in 1938 at the age of 280 years, the
last living link between the Reckgawawanc Indians
who lived here.
Dedicated as part of New York City's 300th Anniversary Celebration
by the Peter Minuit Post 1247, American Legion, January 1954
Whether the exchange between Minuit and the Lenape actually occurred at this location or not, the Great Tulip Tree stood through three centuries of New York City's development.
Citations:
"Tulip Tree of Old Inwood," My Inwood, February 17, 2014
Inwood Hill Park on the island of Manhattan, Reginald Pelham Bolton, circa 1930
Annual Report of the Department of Parks Borough of Manhattan, 1930
Annual report of the American Scenic and Historic Preservation Society to the legislature of the State of New York, v. 18, 1913